The best spinning rods should be versatile, simple to cast, user-friendly, perfect length and power, high-quality build and fun to fish with. Whether you are a professional or just a new angler getting into fishing, spinning rods can make your learning curve more accessible and pleasant.
However, the "best" varies with some criteria. Some spinning rods are suitable for professional use; some are good for the new anglers. And some come with very budget prices.
Keeping all these terms in our head we have analyzed about 100+ fishing rods and finalize some best rods to recommend you.
So, without any further ado, let's begin the best spinning rods reviews with an ultimate buying guide.
Best Spinning Rods Reviews – Our Top Recommendations at a Glance
Choosing The Best Spinning Rod – Buying Guide

Spinning Rod Power
Fishing is a battle and without power in your fishing rod, you are going to lose your fight.
So you must choose the armor that suits the target to whom you are aiming.
Obviously, you need to opt for a more massive rod for a heavier target, and lighter fishing requires having a lighter rod as well.
But this is not a rule of thumb to choose the sturdy right rod. The amount of bending is a hard nut to crack for assessment, even for the professional.
Because heavier rod comes with more power to pull weight, but it isn't flexible with blending. On the flip side, the light-rod has excellent flexibility and it can take less weight but flex more. The powerful medium rod lies between them and allows you to pull weight and flex itself to some extent.
Interestingly, they all work great depending on your fishing journey like where and what type of fishing you' re going to experience. Typically, there are 3 types of diversity in regards to choosing the rod power, and they are:
Ultra-Light:
It is a great choice for you when you are looking for panfish or freshwater gamefish. This type of rod would be fun as it delivers with a responsive and flexible fishing game for you. For that,you are going to experience that the fish starts to nibble and the bait bumps from the bottom too.
Where to apply it: 
Keep in mind that it is only for catching fish that weighs up to 8 pounds and never gear it under saltwater.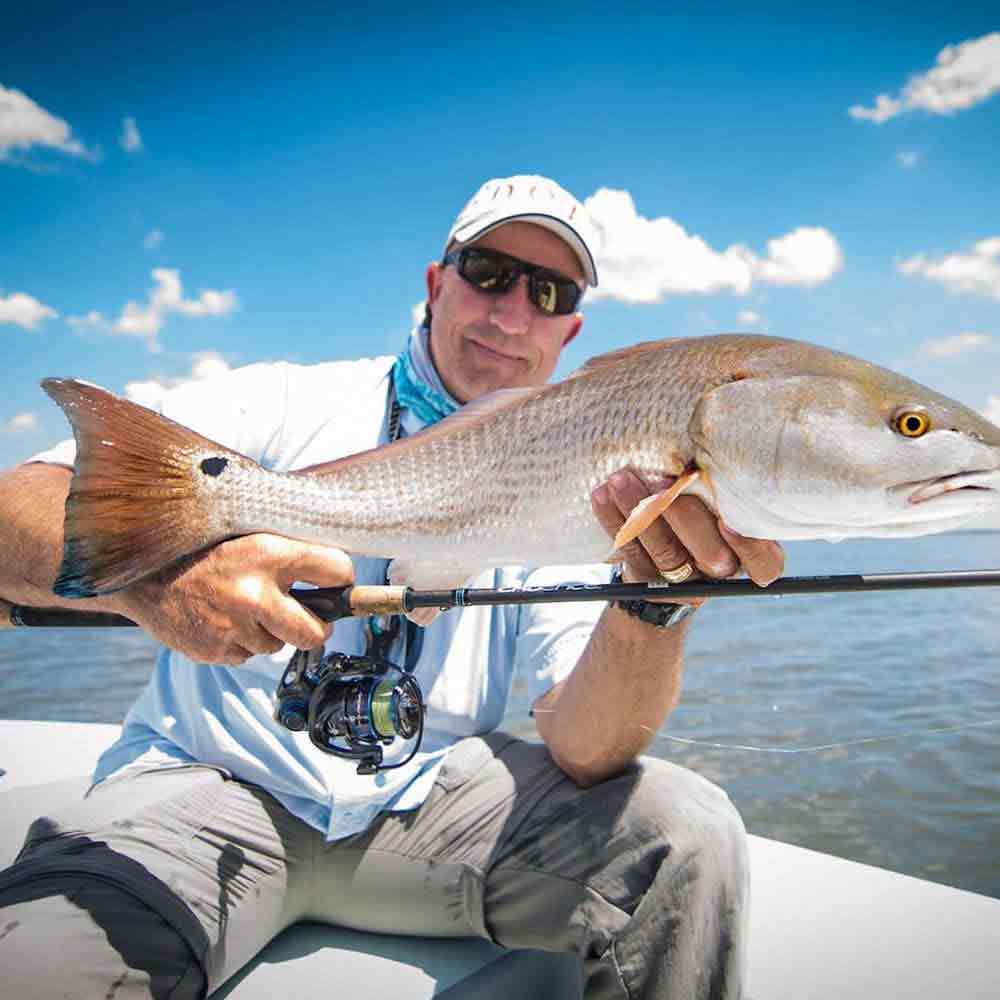 Medium:
Medium power-oriented rods are the best pick for you, when you want to explore the freshwater fishing and saltwater game fishing to some extent. The heavier deal would be trout, pike and catfish.
Many fishermen love to have this range of power rods as it comes with enough stiffness at the same time more oppressive to deal with nerd fishes under saltwater. However, you may need to struggle with the salmon fish as the power seems limited to handle it. But dealing with the freshwater or offshore game fish would be great for you. 
Where to apply it: 
It would be great while dealing with freshwater fish and the saltwater but make sure the fish weight would be up to 20 pounds. 
Heavy:
Looking for a giant under the saltwater? Then you must enjoy the power fishing with the heavier rod. The heavier rod can pull the most stubborn fish from saltwater, including the perch or bluegill.
But dealing with the heavier rod may give you a hard time with the minimum stiffness, but the increased power has no alternative. Therefore, this would be the only choice left while lifting up the striped bass, big catfish and your favorite Salmon.
Where to apply it: 
It only tends to gear under saltwater while dealing with the fish weighs more than 20 pounds but less than 50 pounds.
Recommended for fish to pull from the weedy rivers.
Materials/Constructions
The blank construction material is also an essential factor to consider when you are buying a pole as it determines the durability, performance, and ease of use of the fishing rod.
Spinning rod blanks are usually made using high-quality graphite, fiberglass, or a combination of these two to ensure the best service that you can experience.
Fiberglass is super durable and sturdy, and that's why blanks that are made using fiberglass material are nearly indestructible and extremely durable. Also, because of their strength and durability, fiberglass rods are mostly used to catch large and heavy fish.
One drawback of fiberglass rods is that they are not very sensitive and also a bit heavier than its competitors. The additional weight might be an issue if you are not an expert or you have other hand problems.
On the other hand, blanks constructed with graphite are sensitive but not very stiff. They are also very lightweight to make sure that you can maneuver and control the rod easily during fishing. Graphite fishing poles are an excellent option for beginners. The only disadvantage of these rod blanks is that they require a lot of care to keep them running smoothly.
When rods are constructed with both graphite and fiberglass materials, they are the best. Manufacturers combine these materials into different ratios to make another material- the composite material.
Spinning blanks that are constructed with composite material have the good qualities of both fiberglass and graphite; they are sturdy, lightweight, and sensitive and can be used for different types of fishing effectively.
Length
Before buying your ultimate spinning rod, you must understand the relationship between the rod length and how far you can cast your line. The length of the rod determines the maximum distance you can achieve with it and the kind of control you would enjoy when catching or fighting the fish.
It is a well-known fact that the longer rod, the further it can cast the line and the shorter the rod, the more accurate and correct it is.
Longer spinning rods come with faster tip speed, which means that with these rods, you can cast at a far distance covering a wider area of water. The length of the rod determines how much shock-absorbent your fishing rod would be, and thus you will have a win-win chance to fight with the big-nerd fish under saltwater.
If you are fishing in large and open water areas or using bigger baits or going for surf fishing, a long length spinning rod would be the best choice for you to enjoy a super successful fishing trip.
On the other hand, when you are going for a kayak or boat fishing, a shorter spinning rod would be your best ally as you would want a more precise and correct line from your rod. In other words, casting distance of short length rod may travel a little far from your Kayak boat, but the whole fishing session would be effortless, efficient and hook up the fish more accurately compared to any long fishing rod.
When you are going to buy a spinning rod, you will find the length between two-feet to 12+ feet. Now you need to decide on some specific things like where you are casting, what sort of distance the casting will travel, which fish water it would be, and finally, what would be the weight of your targeted prey. Depending on these factors, you can make a move with the right length of a fishing rod.
Weight
Not just the length, the weight (or power) of the fishing rod also matters. It is the backbone of a fishing rod. The weight or power indicates the strength and the weight that the rod's tip can bear without snapping or breaking when you increase the tension. The weight also determines how easily you can maneuver the pole without facing any difficulty.
There are three types of spinning rods available in the market. Manufactures use lightweight, medium weight and heavyweight to describe the power and weight of the rod for your easy understanding.
Lightweight spinning rods are usually the slow and moderate action rods that are around 7 feet long. These rods are not only easy to control and move but are also an excellent option if you are aiming to catch small fish like trout, small bass, panfish, etc. however, if you are aiming for large fish, then we would suggest not to go for a lightweight pole whatsoever.
Even though the lightweight rods cannot maintain larger and heavier fish, they are highly responsive and designed to handle a 2-6 pound line and 1/32-ounce lure weights effortlessly.
Spinning rods that are approximately 10 ft., long and can endure moderate action are known as medium weight rods. These versatile fishing poles are specially designed to cast a wide range of fish, baits, and lure, from small to medium to slightly large fish like steelhead and salmon.
You can handle any sizes of fish (except for super big ones) from a moderately long distance without any tension or worries.
If you are planning to enjoy a fishing session from the shore, then a medium weight pole would be just the right choice for you.
If you want to catch large, heavy, predatory fish, then you should opt for a heavyweight fishing rod. These 8 feet long rods are fast action rods that are designed to carry out heavy fishing duties.
From casting high pound-test lines to putting on heavier lure weights and going after large fish- there is absolutely nothing you can't achieve with these heavyweight rods.
Action
Action is one of the most important factors of a spinning rod. It is the measurement of how much the rod bends and to which angle it bends so that it's easier for you to buy the best one for your fishing need.
In other words, the action determines how a fishing rod bends when you add a load on its tip and how quickly it gets back to its original position when the weight is removed. This feature also helps you to identify how it casts and the fishing situations your pole can handle the best.
Generally, there are 3 types of spinning rods out there, which are fast, medium and slow action rods.
Fast action rods are stiff and bend only at the tip; they are also super sensitive and response even at the slightest of bites and movements. And because of such nature, these rods are an excellent option if you want to cast your bait at a long distance and go after bigger and heavier fishes.
On the other hand, medium action rods come with an adequate amount of flex, sensitivity, and backbone, and bend in the top half of the rod towards the middle so that you can throw lighter lures and cast mid-weight crank baits with much ease and comfort.
Unlike fast and medium action spinning rods, a slow action rod is not as stiff and hence, it bends uniformly throughout the rod length providing you with a perfect curve. It is the most flexible one in the lot and can absorb shock and impact activities to make sure that you can use it for small bait fishing and ultra light fishing without any difficulty. The shock-absorbing feature also keeps this rod from snapping while increasing its durability.
Taper
Did you ever come to think why do some rods blend a lot, whereas the rest of them blend less? It's all about the taper, which relates the thickness of the wall of the rod. What amount of material is used over there? By the way, Taper is synonymous with the term action of your rod blending.
Obviously,less thickness and less material mean taper reduction on the overall rod consequently, you get more action for bending. 
Action would be faster, medium or slower and they depend on the weight.
The faster rod flex would be One-Third from the Tip, the medium rod blend in the middle part, and finally, the slower rods bend just on the butt zone. 
Responsiveness
Amount of area the spinning rod will go for flexing, store the energy and finally release the power for casting is pretty vital for you to know. The entire journey of flexing, locking energy and releasing the power for casting is the parameter of responsiveness. 
To play that role, different rod materials with different layers take part in the responsiveness in a different manner.
In other words, responsiveness relates to modulus directly. For that, the higher the modulus, the more energy a rod can store; eventually, it would be more responsive. Again, the lighter and thinner shape of the rod comes with extreme responsiveness.
Stiffness
You have just come to know about the responsiveness were bending, storing energy and releasing that energy for casting is the determiners. In that case, the stiffness is the part of responsiveness measured by what amount of force the rod persists in bending. Again, it is a ratio between the amount of flex and the applied weight. 
Consequently, you will find the stiffer rod comes with minimum flexibility. Normally, the stiffness relies on the type of materials that a rod is made of as well as the amount of materials too.
And, guess, how it helps during fishing? Well, stiffness weakens the accuracy of casting but it helps you to pull the harder target out of the heavy cover. Be mindful that, too stiff rod vulnerable to rip the hooks while dealing with the fish's mouth.
Balance
Every rod comes with some specific balance point, and you need to find yours. Usually the rod works like a lever and the closer you go to the tip the better balance you may get. And, then, it stops at the peak point and we find it somewhere in the middle of the rod. 
So, when you cross the balance point, then the time comes to decrease that optimum level. So stay fixed to the midpoint of the reel sits, and more importantly, try to know your fishing rod zone and then bring it at home.
Blank Materials
Amount of rod blank material determines whether the fishing rod is easy to use, durable and efficient underwater or not. Therefore, the blank material deals with the high strength to weight ratio. It may decrease the weight of materials infused in the rod but on the flip side, it increases the intensity to a great extent. 
So, when you want to see your rod goes beyond the durability, strength, sensitivity and flexibility, then you must either choose Carbon fiber or the Graphite. Because, both of them excel in the ratio between the power to weight. 
As a result, the rod would be lightweight at the same time comfortable to use. However, you must be mindful of the con as it seems brittle and requires care during outdoor fishing.
Durability
While looking for a great deal of fishing equipment, you cannot overlook the durability of your fishing rods. In that case, you need to go through double-checking the components, construction and power. 
Depends on the different materials, you may experience different types of durable fishing rods. For example, while buying the best fishing rod for you, keep in mind that the fiberglass would be the one you should look for. However, Graphite is a good deal but it seems brittle while compared to the fiberglass. 
Afterward, the quality part of any spinning rod plays a significant role as well. Hence, you need to pay heed to the reel seat quality along with the line guides. Like a professional buyer, you should ensure that the reel lock-down comes with the metal reinforcement and snugged well. 
Grip
Gripping is something that determines how comfortably you can take control over the rod. So, it is an important feature you should pay attention to. Again, excellent gripping means you are not allowing your prey to let go.
So let's introduce with the Cork and Eva Foam as these brands earn trust and fame by dint of comfortable and soft gripping.  
The foam of these brands tends to have a snug-fitting for that your palm and fingers can efficiently run across the foam and let you experience comfortable casting and fighting with fishes.
Nowadays, a lot of fishing rod ensures ergonomic grips and for that, you can persistently enjoy casting and never feel fatigued hands.
Line Weight
American Fishing Tackle Manufacturing Association first brought the term "Line Weight," and they set this standard to fishermen to understand fishing equipment's more effectively. So the line weight expressed as a range of support that activates for evaluating fishing rod.
The number comes to us from 1 to 12 parameter written in between "1wt" to "12wt". Each of the numbers represents the standard weights in grains. For example, the 6wt fly line represents 168 grains while casting the rods.
Interestingly, the line weight impacts a lot towards the rod's power and action. Depending on the line weight, the power or action of the fishing rod may vary.
So what happens, if you come to know that the average line weight is crossing its limit? Obviously, the rod won't withstand anymore and the line parts will be breaking down. That's why it is an important consideration you know the limit and use the rod accordingly.
Lure Weight
Lure rating denotes how much your rod is capable of taking load upon the cast. The light lure weight comes with the shorter casting, and the heavy lure weight consequences sluggish casting. So it is evident to you how setting up the right lure weight plays an important role.
Now what do you think, is your rod takes so much load and offer slow casting? Or, your fishing rod behaves bumpy, takes a minimum load and travels a short distance? This particular two scenario tells you whether a fishing rod has low lure weight or the high one.
Line Guides
Your success or failure under water largely depends on choosing the right line guides. And, guess what would be the best line guides amidst lots of choices? In Spite of having a vast array of line guides, the best deal comes with the low friction on the line. 
When it comes to the low friction, then Ceramic line guides would be best in this business but it seems fragile. Using the Ceramic line up will allow you to cast the target following far distance at the same time you can trim down the friction too. 
Lastly, never overlook the durability even if it doesn't come with the same low friction like the best deal Ceramic. By the way, you can find some springy metal team up the line guides and thus, you can fully bend it and restore the position. This kinda line guide not only comes with low friction but also, you can unspool it during a casting at great ease.
Finally, here are the must-have features at a glance:  
| | |
| --- | --- |
| Properties | Must have Characteristics |
| Rod capacity to weigh fish | 20 to 50 pounds |
| Length versatility | At least Up to 16 types |
| Graphite/Fiberglass reel seat | Yes |
| Low Friction line guide | Yes |
| Strength to weight ratio | Yes |
| Ergonomic grip foam | Yes |
| Lightweight and well-balanced | Yes |
| Easy to flex/bend | Yes |
| Responsiveness | Yes |
Best Spinning Rods Reviews – Our Top Recommendations
Among the numerous top rated spinning rods available in the market, these are the best spinning fishing rods to own.  However, we did our in-depth experiment and never manipulated by any brands or products. So, these are our honest recommendations and reviews you can trust.
Rating 9.8
---
Shakespeare Ugly Stik GX2  – Best Overall Spinning Rod
---
→Key Features
Modern look with graphite and fiberglass construction.

The metal reel seat and obvious tip.

Modern look, fast action and excellent performance.
Comfortable EVA grips.
20+ combinations of length and power.
Praiseworthy price and value.
The Review:  The most important thing for a spinning rod from our opinion is the customizability. The Shakespeare Ugly Stik GX2 just gets all the way right here. You can pick this best spinning rod without any doubt that fits your fishing style perfectly.
Just after taking it on your hand, the first thing you will notice is its construction, durability, grip and stiffness. This rod is specially engineered with graphite and fiberglass construction that provides excellent performance and improved sensitivity.However, having outstanding durability and long-lasting, this rod is yet exceptionally lightweight, flexible and user-friendly.
We like the construction of this rod very much as it features corrosion-resistant stainless steel that guides to have a wide variety of fishing lines. It is also ultra-durable and a fast action rod that you undoubtedly.
The clear tip design-assist anglers very well even in the times of lightest strikes. At the butt-end of the GX2 rod's handle has EVA grip that gives you super comfort also if you are holding it for hours.
The weakest point of any spinning rods can be its reel seat quality. We found most of the reel seats in a cheap or average class. But here the Ugly Stik GX2 also beat this part pretty well. It has a metal reel seat, which is another point that makes it our overall best spinning rods among the others.
And yeah, the price point. We cannot help ourselves, making this one as our top favorite after seeing its price on Amazon. It can be the best value for money that will prove you the best quality without making your pocket crying.
Summary: Things that we like about this one is the right power, lightweight, fast action, EVA grip, metal reel seat, stiffness, taper, great performance and longevity – all seemed perfect to us.
The Shakespeare Ugly Stik GX2 offers a wide variety of choices in configuration and provides anglers top-notch fishing performance, increased feel, and more modern look in a very satisfactory price (under $50). So, you can call it one of the best cheap spinning rods.
Material: Graphite and Fiberglass
+Value for money
Handle Type: EVA
+Wide variety of options and customizability
Line Weight: 8 20 lb.
+both 1-piece and 2-piece configuration
Lure Weight: 1/4-3/4 oz.
+7-Years of warranty.
Rod Power: Medium-Heavy
 
Reel Seat: Metal
– It comes with full length EVA cork grip.
But some may prefer traditional cork
grip over EVA.
Size: 7-inch
 
Pieces: 1
 
Rating 9.7
---
Another Consideration: KASTKING Perigee II Rod (Runner's Up)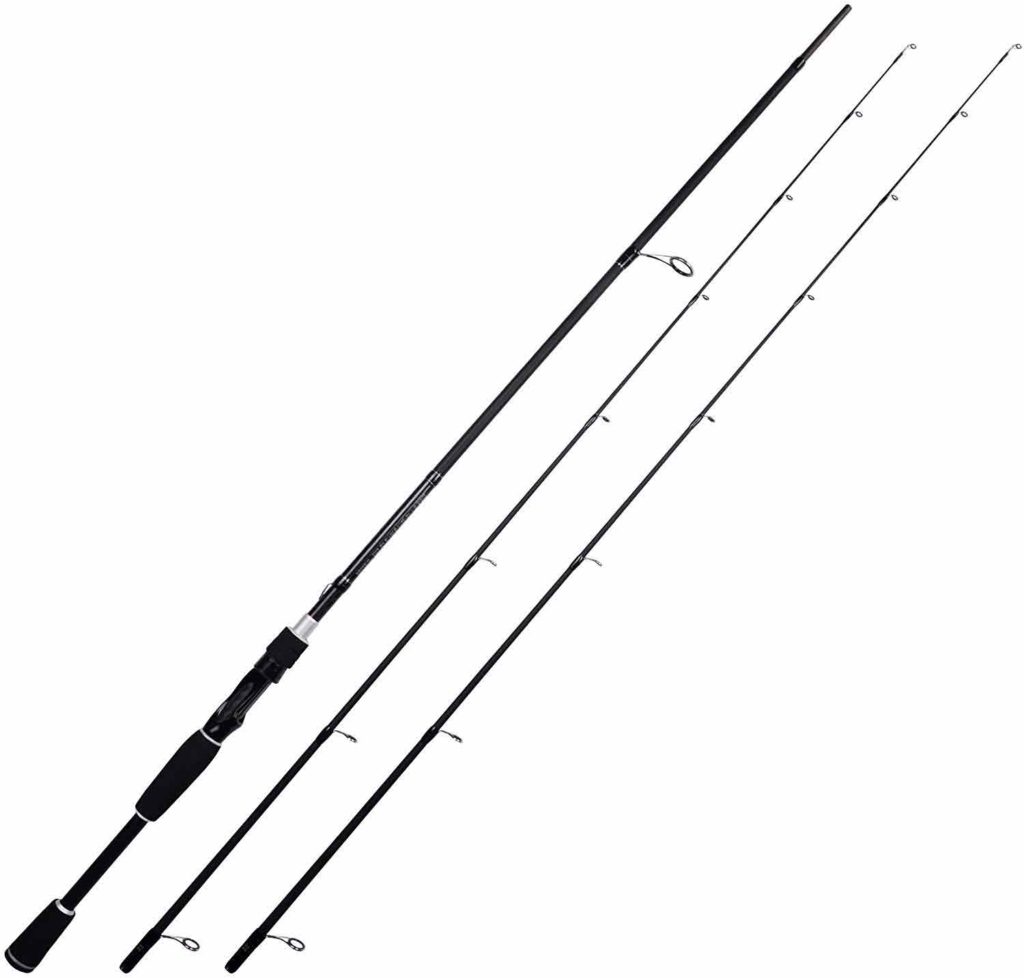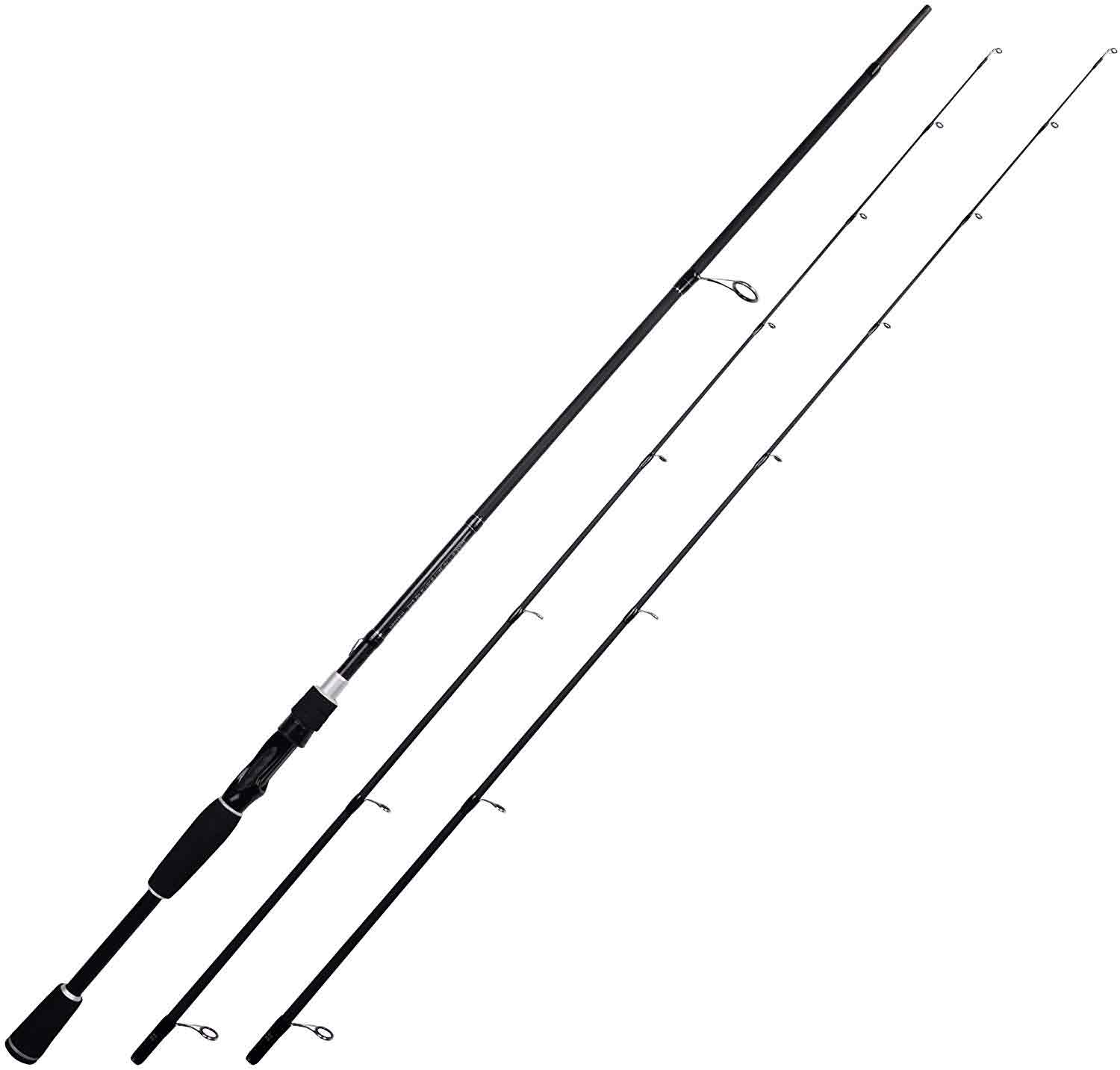 KASTKING is one of the best spinning rod brands and you can check the KastKing Perigee II Fishing Rods as your another best choice. We have found all the necessary features of a best spinning rod like Fuji O-ring Line Guides, Ergonomic Reel Seats, High-density EVA Grips, Multiple Action Options, Twin-Tip Rods, and modern technology like Carbon Matrix KastFlex Blank Technology and High-technology Computer Controls.
The construction of this rod is very durable, comfortable and looks premium. The Power Transition System provides you with smooth power. You can do your fishing with numerous actions with its multiple action options. And you can use this one both in salt and freshwater.
However, comparing to our first pick Ugly Stik GX2, it prices more. So, considering the value for money, The Ugly Stik GX2 is still a winner. Besides, if you are opting to catch big fishes, this cannot handle heavier fishes well. Moreover, we are a little bit confused about its longevity. In terms of durability and long time use, we again prefer Stik GX2 over the Kastking Perige ii. But if you are bored with GX2 and want to try a different one, this one is for you.
Rating 9.7
---
KastKing Speed Demon Pro – Best Professional Spinning Rod

---
→Key Features
After years of experiment it comes with Carbon Nanotube resin technology
Innovative Elite's carbon blank materials that reduce 30% of the weight
15 different effective action modes & length
Made with the blending of S-Glass Crankbait Rods & Graphite metal
1 pc rod comes with two different sizes 7' to 6'8"
The Review:  If you are in search of finessed lure fishing, you must love KastKing Speed Demon Pro as it comes with the Nano Fishing Technology. This new modern design ensures to keep minimum blank materials (Elite Carbon blanks) for that, you will find a 30% lighter rod on the other hand, superb strong and sensitive frame.
After the innovative blank materials the elite's second challenge was to bring the 15 versatile fishing action techniques. Mastering these techniques allow you to rule underwater and enjoy the trout and bass fishing. 
The line guides would be another catch for you, as it teams up with the Fuji line guides and reel seats to have snug-fitting lines, as a result you won't experience it to have slowed down or frayed.
The nano resin technology comes with so many benefits. First off, the multi-directional carbon layer makes the rod extra strong and the carbon fibre goes inside horizontally until it reaches the carbon nano-tube resin. Once it touches the second layer of carbon fibre then it gets fixed with the cross slit carbon wrap, as a result you are going to find it as Horizontal high-density carbon.
Now let's come to the material segment, the main component of it is the Crankbait rods. It is a blending of S-Glass with high modulus graphite. For that, when you lift it up you feel the rod as lightweight and well-balanced. Furthermore, the soft crankbait increases the action in two different sizes which measures between 7-foot spinning rods crankbait and 6'8″.
Summary: You will find so many selling points of KastKing. Previously, the buying decision depends on the action, power, length, line and lure weight of a rod. But now the best trade-off means, you have paid attention to a new innovation. Keeping this mind, the KastKing nailed it with the Nano Resin-tech. It takes years of experiment to make such innovation. Now it is all up to you whether you make a move with the modern beautifully designed fishing rod or still stick to the traditional one. This is our favorite one for professional fishing among most of the 7-foot spinning rods. 
| | |
| --- | --- |
| Material: Carbon Graphite | +Golf-style fishing butt and main grip |
| Guides: 12+1 | +True Tournament Performance Rod |
| Line Weight: 12-25lb | +Offers 7′ heavy fast action large mouth punch rods |
| Lure Weight: 3/8-1 1/2 oz | +Especially designed to reduce blank materials |
| Rod Power: Medium | -Hook keepers seems low placed beneath the rod following the reel |
| Size: 7 ft. |   |
| Pieces: 1 |   |
Rating 9.6
---
Cadence CR5-30 – Best Budget Spinning Rod
---
→Key Features
Made with high-quality 30-ton graphite.
Comfortable and easy to use.
Stainless steel frame with SIC guides.
Adjustable reel seat
20 Top grade handles and cork.
Ergonomic & comfortable Fuji reel seat
EVA grips
Praiseworthy price and value.
The Review:  The CR5 series is a popular fishing rod in the entire fishing market. You can call it the best value for money. With such a low price, the company hasn't compromised its quality and modern features that a best spinning rod should have. You will definitely love its durable yet lightweight construction along with high-quality and high-tech features in just under $50.
The Cadence Spinning Rod CR5-30 has all the must-have features we have described at the beginning of the article. This, time we are not going to elaborate on each of the features. You have already known all of those. So, let's have a look at the best parts of this rod.
First of all, this rod is made with high-quality 30-ton graphite which makes it strong and premium construction but still very lightweight. Moreover, the stainless steel frame with SIC guides also increases its durability and performance.
It has cork handle and premium grade EVA grip. The reel seat is form Fuji which is also a thing we like most of this fishing rod. It is easy to use, best for game fish and provides you with the best value for the money. Buying this spinning rod, you can get quality and performance together at a very budget price.
Summary: If you are bored with the traditional and popular fishing rods, and want to try something modern and new, this budget-friendly Cadence Spinning Rod can be the perfect choice for you. You can enjoy the premium quality fishing rod experience with a very affordable price. Comparing to its price, it is almost near to perfect spinning rod that you can buy. If you are a new angler, it can be your first fishing rod to start with.
| | |
| --- | --- |
| Material: Carbon Fiber | + Very affordable |
| Handle Type: EVA | + Provides superior performance and longevity |
| Line Weight: 2-6 lb | + Comfortable for game fish as well |
| Lure Weight: 1/32-1/8 oz | + Premium grade cork and EVA handle |
| Rod Power: Medium-Heavy | + Available in various lengths, actions and power. |
| Reel Seat: Fuji |   |
| Size: 4.8 ft. | – Max stamp power is not that much good. |
| Pieces: 1 | – Not ideal for prolonged use as the diameter of the handles is a bit narrow. |
Rating 9.8
---
Abu Garcia Ike Dude Spinning – Best For Beginner/New Anglers

---
→Key Features
Great reel and rod combo with 2 ball bearings
Made of premium Graphite body with Aluminium spool
Effective medium-weight leverage
Well set up with 2 pieces of composite blank materials
Easy to grip/hold due to high-density Eva
Fast action Rod, stiff & responsive
The Review:  The materials are from high-quality grade starting from the Graphite frame, stainless steel cone, line guide and the aluminium spool never wear out. For beginners it would be a perfect deal as they won't find a hard time to maintain the fishing rod.
Most of the young anglers find it handy to keep with them and go anywhere they want due to having lightweight composite blank materials. The 2 pieces composite blank comes to fit in the high-quality Eva split grip.
Moreover, the Eva gripping increases the sensitivity thus the rod comes to your hand comfortably and keeps you busy with fishing for hours without hassle.
You can rely on this spinning combo rod experiencing your beginner's mode fishing as the rod operates flawlessly so every penny is worth investing. The little rod is easy to manoeuvre, increase the fishing accuracy at short distance casting, and you can catch fish that weighs up to 30 pounds under freshwater.
Now, what would be the key selling point of it?
Once you have started your fishing career it helps you a lot to get accustomed with the fishing techniques and you will fall in love with the smooth casting and to see how the reel combo works.
Summary: The first catch about the Abu Garcia is with a nice set up of rod and reel and they come with solid materials. For that, you won't find any issue to land a fish up to 10lb weight, and the action is best suited for trout fishing. The aluminium spool is always on the go and never causes malfunction, therefore, you can freely cast whenever you want. The price seems a bit more to me but as long as you are happy with the amazing specification and features then it becomes worthy to invest your money.
| | |
| --- | --- |
| Material: Graphite | + Pre-spooled with 6lb line |
| Handle Type: EVA | + Reel & Rod combo preset |
| Line Weight: 1/4-5/8 lbs. | + It offers all bait performance with texas rigged hook |
| Lure Weight: 1/8-3/4oz | + Short in length but better in action and power |
| Rod Power: Medium |   |
| Reel Seat: Metal |   |
| Size: 6 ft. | – The rods artwork isn't centered on the pole |
| Pieces: 2 |   |
Rating 9.7
---
Rattlesnake 2 Piece Graphite – Best Two Piece Spinning Rod

---
→Key Features
Sturdy construction made of premium quality Graphite
Good for medium-range travel for casting
Modern reel protected by steel hood and soft-touch coatings
Ceramic inserts ensure low friction thus smooth casting
Eva Gripping allows comfort and convenience to hold the rod
Cork provides with split-grip handles and makes it lighter
The Review:  While fishing under freshwater you must have a look at Rattlesnake 2 that comes from a worthy Brand Entsport E Series.
Entsport is continuously bringing new products for the fishing enthusiasts in three different categories, and this E series category comes as the best budget spinning rod with the quality oriented features. They bring forth this fishing rod as the best 2 piece spinning rod with whole new innovation.
Rattlesnake won many hearts, who love to travel a lot and find no hassle to pack this 43 inches long spinning rod for next trip.
It is designed for your short to medium casting adventure as the light tips will give you the perfect fitness bass rod, split shot and drop shot rigs. Covering small to medium distance would be effective with the help of different action tips.
You can experience three different modes of power as it comes with the 3 top pieces starting from medium light, medium and heavy. It seems you are getting this fishing rod based on superior action and practicing versatile power.
The main attention of this fishing rod is its built quality and it comes surprisingly affordable to you with the high quality premium Graphite. Afterward, 7+1 guides along with ceramic inserts ensure low friction while casting at the same time paves the way for durable performance.
Minimizing low friction is not only limited to the smooth casting but also it enhances the sensitivity of your fishing rod and transfers less vibrations as well. Therefore, tackling the nerd fish has become easier than before with this amazing armor.
Buying a great fishing rod requires double check in multiple features starting from power, action, casting accuracy and the final catch is comfortable grip. Thankfully, Rattlesnake passed all the tests including the comfortable split-grip as it comes from the Premium Cork brand.
Summary: Choosing this Rattlesnake would be worth investing for any beginners or who is looking for a medium weight section rod for exploring the bass fishing nearby. It provides a great rod which is easy to handle and comes with excellent response and comfort. More importantly, you are getting the three variable sections, quality construction and modern appearance.
| | |
| --- | --- |
| Material: Carbon | + Enhanced with the Carbon Reel Seat |
| Handle Type: EVA | + Stainless Steel Hook Holder comes with humanized design |
| Line Weight: 6-14lb. | + Smooth top ring allows accurate casting |
| Lure Weight: 1/8-3/4oz | + Medium light tips give you the perfect trout |
| Rod Power: Medium-Light |   |
| Reel Seat: Metal |   |
| Size: 7-inch | – The reel case is not allow the rod for snug-fitting |
| Pieces: 2 |   |
What is a Spinning Rod?
Spinning rods, also known as fishing rods, are often confused with casting rods. There are some differences as per their usage. The spinning rod comes to pair up with a spinning reel. The combination of these two makes the fishing process easier. The spinning rod is especially useful for beginners. 
It comes with high-speed plugs and topwater poppers. Spinning rods can cast lighter bait. So it is suitable for the fishes which attracted with lighter baits as well as the smaller fishes. The features of the spinning rod are straightforward so that beginners can understand better with it.  
Different Types of Spinning fishing Rods
There are many kinds of a spinning rod according to the shape and size you need. Before you buy any one of them, make sure you know what it is actually suitable for. Here goes some of the best spinning rod you will love to go fishing with.
Spinning Rods: If you are a newbie in fishing you may not find the difference between casting rod and spinning rod. But they are different—the main difference you will find in the weight. Spinning rods are much lighter than casting rod and also shorter than it and it is around 7 foot spinning rod. The number and size of the eye also vary to reduce friction.
Casting Rods: Casting rods are great for casting the bait accurately. When the fishes are in the open water and you want to lure somewhere accurately, you may need this one. There are two kinds of casting rods in the market.
Bait casting rod.
Spin casting rod.
According to the needs, the size of the eyes is determined in the rods.
Fly Rods: These rods are specially made for fly fishing. Fly rods come with many shapes and sizes. These rods are suitable for catching small fishes. It is flexible and can move back and forth. Fly rods are one of the best medium actions spinning rod.
Sea Finishing Rods: The name of the rod itself is self-explanatory. Like the name of it, the rod is meant to use for big fish in the sea. You can use it on a boat or ship. The length of the rod differs whether you are using it on boat or ship and if you are using it on the boat, the length will be shorter than the one you want to use on the ship.This rod is especially for big fish or game fish, so this rod is a heavy-duty rod than the other one.
Telescopic Rod: Telescopic rods are famous for their compatibility. It can be folded which is easier to carry in a car. But when it is in its full form it can be up to twenty feet and really flexible. This rod itself acts as the eye, so the additional eye is not needed in this type of rod.
Trolling Rod: This rod can make your fishing experience a fun-filled one. If you want to play with the fish this one you may looking for. These rods are usually made for attaching behind the boat. It targets the game fishes so you will find it long, fast. It is a heavy action spinning rod.
Surf Rod: If you need a long and heavy-duty rod to cast heavy bait a long enough way then you can try for best surf rod. It comes with a long rod and as its targeted fishes are big, this rod is heavy-duty. As for this its durability is also good. This rod is not for the beginner. You need to be experienced in using this rod with the two-hand method.
Ice Fishing Rod: Ice finishing is very common to fishermen. As the distance is not high due to ta ice, so ice fishing rods are not very long. It may be the oldest finishing rods you will find in the market and is made to catch fishes in the cold Icey weather. 
How to set up a spinning rod?
It is not easy to understand the mechanism of a spinning rod if you are new in fishing. Setting up a spinning rod can be more confusing if you do not look up for some instruction. So let us help you with that. Here is the step by step guide on how to set up the best spinning rods.
Step 1: Most of the time manufacturers make spinning rod in different pieces. So first you have to join the separated pieces together
Step 2: Next, you have to loosen the seat of the real which is located on the rod near the handle. So you can easily locate the reel foot there.
Step 3: As you have made the space for the reel, now you can attach the rod by setting the reel foot in the reel seat and tighten it. You should tight it as much so that it does not displace but not as so that the rod gets itself damaged.
Step 4: Set the reel handle left or right side as per your comfort.
How to put a line on a spinning rod?
After successfully inserted the spinning rod, now it's time to put a line on it. Let's see how you can put the line on a spinning rod easiest possible way.
Step 1: While putting line on a spinning rod, the first thing you need to check is selecting the correct fishing line for your rod. If you do not choose it accurately it can really limit your casting distance, holding capability and so many other things. So make sure the line is suitable according to your rod.
Step 2: Starting from the tip of the fishing reel, enter the string through the rod guides until it reaches to the spool. You must follow the guide order as its set to the rod.
Step 3: Put the line through the spool and tie it. Tie it two times to be sure it's tight against the spool and cut the excess.
You may read also: How to Put Fishing Line on a Reel
Step 4: Twirl the reel as you have already caught a fish. The line will begin to warp on the spool.
Step 5: Continue doing this until about 12 inches of the line hand from the rod and you are done.
Final Verdict
Choosing the right or the perfect spinning rod is a little harder than you imagine. There's a lot to know about fishing and spinning rods in general.
To help you through the learning process and find out the best one for you, we have talked about everything that you should know about the best spinning rod before shopping. Hope you have gone through all the terms and topics we have talked about above. Now it's time to select the best-suited rod for you. If you still have any queries or questions to ask, comment us below.