Fishing is all about passion and fun when you got the right equipment in your hand. How can you understand which rod is the best telescopic fishing rod for you? How do you even decide whether you need a telescopic rod or not?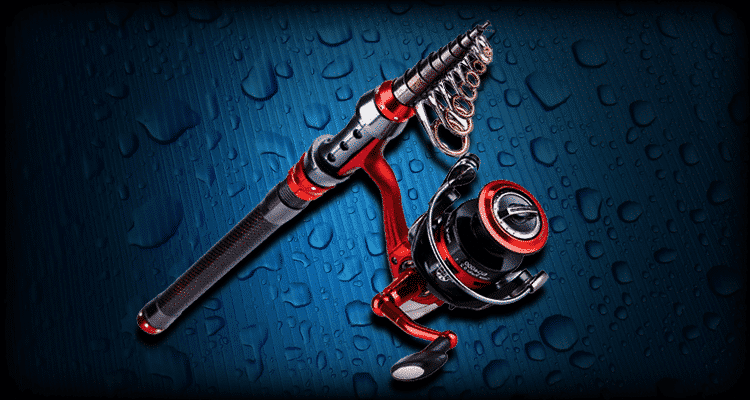 Well, there are several points of consideration in the answer to the question. Telescopic rods have come a long way from those junky earlier models. Since ages, we all love fishing while we are up for traveling, camping, hiking or even going at a distance.
But with a telescoping rod of compact size and portability option enhances the beauty of fishing up to several grades.
All features that we find in standard fishing rods such as, high-grade construction, heavy weighing capacity, elegant design all these you will be getting in these types of rods. But with these features, the telescoping rods add a collapsible facility that makes it portable.
Here we are going to discuss the main factors to look for when you need to buy a budget telescopic rod.
Not only it's portability and compact design we have also reviewed some special features in our review section of best telescoping fishing rods.
Quick overview of our top rated Telescopic Fishing Rods reviews
PLUSINNO Rod and Reel Combos Full Kit – Best Overall telescopic rod
Sougayilang Pole Spinning reels – Best portable Fishing rod for travel
KastKing Blackhawk II  – Best telescoping Graphite Rod
Who does have time or endurance level to endure a couple of reviews for getting a rod for fishing? But, in this guide, we are going to help with all the essentials that need in your fishing rod. This review will surely help you to choose the best one and will provide you a complete idea about other telescoping rods too.
What is Telescopic Fishing Rod?
Telescopic rod refers to that type of fishing rod which can be easily carried by folding and can be extended when necessary. It can be either pocket fishing rod or can be a combo of reel rod with carrying- on luggage.
You can have many products available in the recent market. But what thing you should look after before buying the best rod from the market? The below simple tips will surely help you to get rid of this confusion.
Though every telescoping rod is travel-friendly but makes sure, it's lightweight to carry easily.
Make sure it comes with a comfy handle for longer casting facility.
You should know the types of fish you will be catching. If you are casting for heavy weighing fish, buy rod accordingly and vice-versa.
What Material Is Used For Making Fishing Rod?
Do you know what a good telescopic rod is? But you can easily know which can be a good one for you. A fishing rod is a gear or tool used for catching fish on a tour or camping.
Though it doesn't have a solid connection with your career, still it's a matter of your passion, hobby, and love that works strongly for fishing.
As we know good fishing relies on a good fishing rod. So, we just have to try for getting the best one.
The best tool always comes from a combination of good quality materials. A very common component that is being used for making fishing rod is graphite. Graphite is a combination of carbon fiber and fiberglass.
But both of these materials aren't used together for making a rod.
Telescopic rods are either made with carbon fiber or fiberglass.
If you're a beginner in fishing, you should always take fiberglass made of rods for fishing. As carbon fiber isn't not only durable but also very sensitive.
Beginners can't manage to handle it somehow. And they end up breaking it into pieces. Only those who can handle carbon fiber rods should use it. Otherwise, it's better to ignore it.
A beginner can enjoy fiberglass fishing rods for their firmness. These rods are rigged and design to handle tough fishing situations. They are also not sensitive to carbon fiber materials.
One of the cons of having a fiberglass rod is that they are heavier. Apart from this, they are open to let you do versatile things.
Best Telescoping Fishing Rod Comparison Chart
| Product | Size (closed) | Interested? |
| --- | --- | --- |
| PLUSINNO Spinning Rod | 1.8m to 2.7m | |
| Sougayilang Portable Rod | 20.08 in | |
| KastKing Graphite Rod | 7 to 8 fT | |
| Sougayilang Portable | 15.75" | |
| Hurricane Mako | 20" | |
| Sougayilang Mini Size | 10.6" | |
| Eagle Claw Pack-IT | 16" | |
| Apusale Telescopic | 47cm | |
| TOMSHOO Telescopic | 43cm | |
Best Telescopic Rods Reviews
Here we will be reviewing top rated telescoping fishing rods. We've categorized them into two specified price range. So that, if you have enough budget you can choose, if you don't you can also choose the best one for you more easily from here.
Top 5 Telescoping Fishing Rods Over 30
Well, we can understand you have a good budget to purchase a best telescopic fishing rod. That's good. For you, here is top 4 telescopic rod selected by our fishing angler and our editor team provides. Hope these selections and reviews will help you to pick one best and perfect.
PLUSINNO Telescopic Rod Reel Combos Full Kit

Many people can be found who love fishing in their time. Do you want to make your leisure time more colorful and memorable through fishing?
If yes, then the "PLUSINNO Rod and Reel Combos Full Kit" will be the best option for you. It has come up with almost all the necessary ingredients for the convenience of fishing. It also includes a convenient carrying bag that has a compact design and is considered a suitable size for hand luggage.
Technical Specifications
Length of the Rod: Several(1.8m5.91 Ft to 2.7m 8.86Ft)
Action: Multiple
Suit for: Sea fishing, boat fishing
Gear ratio: 5.2:1.
Collapses for: easy storage and travel
Power: Medium.
Line capacity (mm/M): 0.20/240, 0.25/200, 0.30/140.
Overview:
This remarkable telescopic rod has been built with novice fishers in mind. Like other fishing rods, it includes an EVA Foregrip. It will ensure you maximum comfort for lengthy trips as well as encourage you to fight the fish. You'll also find a stainless steel hooded reel that will act as saltwater protection to prevent rust.
Its power-drive gear is equipped for high power so that you get maximum support during fishing. It also includes a right / left interchangeable handle for ease of carrying. It is considered to be the best as an alternative to fast and easy fishing. In a word, Ideal option as a travel kit. Not suitable for everyday use.
Sougayilang Portable Telescopic Rod (Right and left-handed individuals)

We always give priority to the best rods that are ready to provide the maximum support to the user. Another useful fishing rod in our list is "Sougayilang Spinning Fishing Rod and Reel Combos". If you want to experience fishing for the first time, this may be the best solution for you. It comes with all the necessary features, as well as some additional features that set it apart from other rods.
Technical Specifications
Rod Body made: Carbon Fiber
Ball Bearings: 13+1BB
Gear ratio: 5.5:1
Tip Diameter: 0.087 in
Open Length: 10'5″
Close Length: 20.08 in
Spool weight: 1.47oz
Line capacity (lbs/yds):14/210 16/180 18/150
Overview
One of the best advantages of using it is that it has some fantastic features that make it suitable for saltwater and freshwater fishing. It comes with a high-density carbon body combined with fiberglass like some other models of the Sougayilang brand. This ensures maximum protection to this rod. It includes 13 + 1 corrosion-resistant ball bearings, the only tip of the iceberg. It also offers gears that match the durable 5.5: 1 gear ratio, which gives it more superiority than before.
This fishing rod has interchangeable parts that allow you to work with both your right and left hand. The Sougayilang Spinning Fishing Rod ensures that you get more ergonomics from using it. You'll also get control over the machined aluminum handle with extra fine aluminum spools from it. Its remarkable features and ease of use make it incomparable with other Sougayilang models. There is no carry case.
KastKing Blackhawk II Telescopic Fishing Graphite Rod (1pc)

As you can see from the name, you can guess that it is ready to supply you with all the necessary ingredients for fishing. The most notable feature of this remarkable fishing rod is its hard glass tip section. The most crucial point of any telescopic rods is its tip section, and in this part, KastKing Blackhawk II has provided the maximum support to the users. It is an impressively durable option that comes with a 24-ton carbon matrix blank. It is flexible enough to perform, and you are going to experience some lovely fishing with it.
Technical Specifications
Blank Technology: 24 Ton KastFlex
Power: Variety
Body:Carbon Matrix with Glass
Length : 7 to 8 fT
Techniques: Multi Purpose
Action: Fast
Guides: Fuji O-Ring
Handle: High-density EVA
Overview
This rod is constructed with the help of CNC machined aluminum reel seat elements. The blender also includes a three-point welded stainless steel guide in it. Although it comes in six pieces, its manufacturer brand claims that it can be used as a full-length one-piece rod. There is no risk of rust due to overuse, meaning you can use it in both sweet and salty water if you want.
You can easily choose this telescopic rod of any size and weight for fishing without any problem. It also can withstand enough pressure so you can use it without any hassle. This telescopic rod has also proven to be reliable and useful for fishers. If you are looking for a telescopic rod that will help you make your fishing more comfortable and attractive, then this is the best for you. We didn't like weight of this newly designed travel rods. It doesn't come with a warranty.
Sougayilang Portable Telescopic Fishing Rod
If you are looking for a perfect combination of reel and rod telescopic rod, then Sougayilang Portable Telescopic Rod will obviously be your first choice. It's super sturdy construction and convenient carrying facility. Also heavy weighing capacity makes it list at the very top of our reviews over $30. This can also be perfect gifs for any fishing enthusiasts because of its elegant, smooth design. Let's ride into deep and get the idea of the other features why it is considered the best one in the market.
Technical Specifications
Size: 1.8M or 5.84ft
Weight: 150g or 5.29 oz.
Opened Length: 180 cm or 5.84 ft
Closed Length: 40 cm or 15.75 inches
Gear Ratio: 5:2:1
Line Capacity: 0.18mm/200m
Lure Weight: 257g or 9 oz.
Overview
This heavy weighing capacity telescopic rod comes with good elastic features and carbon fiber material. This material helps to reduce the weight of this rod and makes it easy to carry. This portable design allows you to carry the rod while you are going for a trip or going to pass your vacations.
Being lightweight and portable you can easily carry this telescopic rod in your backpack, in your boat hatch or under the car trunk while traveling. The EVA foam grip will give you extra facility while fishing for a longer period. Also, you can change the handle from left to right according to your handiness and comfort.
Though this telescopic rod is great for fresh water, shore fishing and fisheries in the reef, but is not that much recommendable for saltwater. You can also take this along with your while surf fishing. Overall, this heavy weighing capacity and high-grade materials make it one of the bestrods in the recent competitive market.
Hurricane Mako Telescopic Rod
If you love longer casting and want to catch heaviest fishes in the river, shore then Hurricane Mako Telescopic Rod is obviously for you. This heavy-duty telescopic rod can be used for kayak fishing. Along with ceramic guides and advanced cushioned hoods, the high-grade performance of this rod makes it one of the top in the market.
Technical Specifications
Length of the Rod: 7 feet
Body Material: Fiberglass rod
Section: 6
Closed Length: 20 inches
Opened length: 7 feet
Overview
This telescoping rod from Hurricane comes with sturdy fiberglass construction. This rod blank has six sections. This six section has a compartment for each so it can be easily collapsed and carry when and where you want to go fishing. This fiberglass ensures its toughness. This is great for saltwater fishing.
If you are traveling by plane, you can take this fishing gear with you. It comes with carry-on luggage. That helps to carry it in your parked car too. It has an insane weighing capability. You can even catch large blue fishes with this heavy duty telescoping rod.
You may find the eyelets are partly separated from the pole. But if you can install it properly, it won't be any more problem with you while fishing.
Top 4 Telescopic Rods Under 30
Here are top 5 good telescopic fishing rods under $30. So if you have a low or tight budget to buy a fishing rod, you can choose anyone from below 5 telescopic rods. You can rely on these 5 rods without any hesitation.
#01 Sougayilang Mini Size Portable Travel Rod
Lightweight and handy- these two are the main features of this Sougayilang Mini Size Portable Travel Telescopic Rod. It is also featured with anti-saltwater corrosion resistant. Other features of this traveling fishing rod are discussed below.
Technical Specifications
Length of the Rod: 4.3 ft
Closed Length: 10.6 inches
Opened Length: 4.3 ft
Weight: 4 oz
Sections: 8
Rod Type: Spinning
Best Suited for Saltwater fishing
Overview
This mini-sized and portable model from Sougayilang is very popular because it allows you to fish while traveling without facing any problem. The manufacturers ensure its durability and elasticity. Because of the compact size, you may think that the extended length of the rod may be compact too. But it's not. The opened length of the rod is 4.3 feet which are the actual size of the rod. That's is why it is considered one of the best traveling collapsible rod.
Moreover, the guides with the ceramic inserts are made of stainless steel. This is used in a braid, super line fishing. There is also corrosion resistant protector. This helps to continue fishing in the saltwater for a long time without any rust. The reel seat is also corrosion resistant.
The rod may seem overpriced and filmy to some people. But if you consider the overall features and handy facilities this will surely be on your wishlist.
#02 Eagle Claw Pack-IT Telescopic Spincast Rod
Eagle Claw Pack-It Telescopic Spincast Rod has listed at the very top of our best telescoping fishing rod review under $30. It's elegant design, compact size, super efficiency, long lasting feature and high comfort while fishing makes it one of this best rod under $30 in the market. Now let's take a short look at other features of this telescoping rod.
Technical Specifications
Length of the Rod: 5'6″
Action: Medium
Line Weight: 4-10 lbs
Lure Weight: 1/8 – ½ oz
Line Capacity: 3-150 lbs-ft
Material: Fiberglass
Ball Bearing: 1
Number of Pieces: 1
Closed Length: 16 inches
Opened Length: 5'6"
Overview
This Eagle Claw telescopic spin cast rod has a long-lasting and sturdy fiberglass construction. This durable design makes this rod very suitable for the trail, car trunk or even turboprop. The action of this collapsible rod is medium, but it's quite aggressive. You can catch several fishes weighing over 2 lbs easily. It is very suitable for freshwater fishing. But for trout fishing and to catch panfish, this telescopic rod is used widely.
This model comes with a lightweight aluminum reel. The quick folding EVA foam handle ensures long time fishing. You can also use this rod for bass fishing. This is very popular because of its grab and goes features. The fiberglass construction minimizes the weight and the compact size when closed confirms the mobility. You can keep this fishing rod beneath the car seat, in your boat hatch or even with you, in your backpack.
The only limitation will be fishing while fishing with this compact telescoping rod is that you need extra care while creating big fish. This can be a great rod for small fish, but to catch the big fish, you need to have extra care and hold the rod straight.
#03 Apusale Telescopic Spinning Rod
The Apusale Telescopic Spinning Rod has listed on the second top of our best telescoping fishing rod reviews over $30 list because of its comfy handle and colorful guides. Also, the hollow metal wheel provides extra facility to the user while installing the pole. This super sensitive telescopic pole has become popular for mostly for its breathable handle. So that you can now do non-stop fishing. Let's now take a deep insight of the other reasons why it is listed here.
Technical Specifications
Size: 3.3M or 10.82ft
Material: Carbon fiber
Weight: 9.73 oz
Opened Length: 336cm
Closed Length: 47 cm
Section: 13
Tip Dia: 1.9mm
Overview
Carbon fiber body material makes this fishing rod more durable, hard and sensitive. This collapsible fishing pole comes with high-tech molding feature. The rod wheel is also molded. The metal wheel even makes the wheel seat simpler to install onto the fishing reel.
This telescopic rod comes with anti-corrosion features. It also has colorful guides. The handle of this fishing rod is its uniqueness. The handle of this collapsible fishing rod is very comfy and breathable. So you can continue your fishing all day long with the maximum comfort in your hand. The telescopic rod is best for bass trout fishing. Also, you can use this rod while in surf fishing. In inshore fishing, it is also used widely.
This pliable and durable fishing rod comes with a reasonable price. Though eyelets may sniff due to using imperfectly. But you will surely love the scoping with this telescopic rod.
#04 TOMSHOO Telescopic Rod
If you are looking for a perfectly balanced and super sensitive but lightweight telescoping fishing rod, then TOMSHOO Fishing Rod is here for you. It is perfectly balanced and easily folded. Also, it comes with corrosion resistant features. Let's head to the other features and discuss them in short.
Technical Specifications
Size of the Rod: 2.4M or 7.8 ft
Material: Carbon fiber
Butt Dia: 12.8mm
Top Dia: 1.9mm
Lure Weight: 10-50 g
Line Weight: 12-30 lb
Sections: 7
Guides: 6
Opened Length: 240 cm
Closed Length: 43cm
Retractable Length: 43 cm or 17 inches
Overview
This fishing pole is made of carbon fiber which helps to reduce the total weight of the fishing rod. It also enables perfect elasticity with perfect balancing. It has a super convenient design. High-density carbon fiber is mixed up with fiberglass and stainless steel. This super construction makes this rod more reliable and provides superior performance.
This telescoping rod has a high weighing capacity. You can catch catfish, panfish and other big fishes too with this rod. The corrosion resistant steel will prevent you from any rust.The High-density EVA foam provides maximum comfort while fishing. This also helps to continue fishing with less fatigue.
Overall this rod can be a great buy for you if you are up for camping, hiking or traveling. The thick handle might not be suitable for every type of hand. But the foam grip will surely provide you maximum comfort.
Best Telescopic Rod Buying Guide: Considering Factors To Look
A fishing rod is always not for fun. You might have to keep it along with yourself for the habit and passing a beautiful journey around a sea or river. It's a necessity sometimes while you want to enjoy the highest peak of fishing and enjoy all its aspects.
You can always check the best telescopic rod reviews and get the affordable fishing rod for you. But it's not easy at all!
You still need more knowledge before you really can select any telescopic rod for fishing for you.
Let's heed to those very crucial factors that you never should skip while choosing the best telescopic rod for fishing.
1. Materials Quality
Quality should always be the first check whenever you're buying any tool or fishing equipment. Reliability comes when the tool is made of sturdy materials or what you need. Now, the fishing rod of telescopic isn't different.
As you can see, most of the fishing telescopic rods are made of graphite and fiberglass. These materials are bound to make a rod quite sturdy.
Whether these rods are light or heavy, you should not ever bother for the material quality if the materials are solid. The best thing you can do is to look for a reliable brand. A reliable telescopic comes from the combination of a good company and great materials.
If the manufacturer company is a reliable term that you can get lucky, then the quality is an obvious high peak to get easily.
2. Portability
Whatever the fishing rod is, it must be compact. Most of the fishing rods are longer in size. And when do you face hassle? It's when your telescopic rods don't come with the portable feature.
The portable feature is very important to have in a fishing rod. Whenever you're traveling through a long journey, it's convenient to keep your telescopic rod for fishing in the backpack.
What to do if it doesn't fit in the backpack?
You can't take along this into your hand and bear all the way you go, right? Thus, the portability is the factor you always should look for in the telescopic rod.
3. Power
Every fishing rod has a tolerance level to bear. What type of fish you're going to target is the prior thing that you should know very well.
If your targeted fishes are heavier and bigger, you must consider a rod that doesn't bend.
While you're on fishing for smaller fishes, you can do good with a telescopic fishing lower bending rod. But to deal with bigger fishes, you need a rod for fishing which won't bend too much.
So, the more the rod can bend ensures the lower power. And the rod that doesn't bend so much is a powerful rod to endure bigger fishes.
So, depending on your requirement of fishing you can get your rod power and enjoy fishing in its edge.
4. Durability
These rods are not too sturdy for handling random heavy fishing. If you see at the ordinary rods which are constructed for heavy fishing tasks, but still you can't take them while you're on a camping or traveling.
Telescoping fishing rods are not ideal for catching big fishes. Yet they are the only option to take into your backpack while you want are on a fishing journey.
It's better to check out the durability in telescopic materials. So, you can get satisfaction fishing experience.
5. Weight & Length
Well, overall dimension and weight is an important factor. Carrying a heavy fishing rod isn't comfortable at all. You should make sure the weight is minimal with a great extended length size.
Size is always should be checked before you buy any kind of rod for fishing. The longer size is flexible and user-friendly for any beginner fisher. But the size should be always minimal whether you prefer a big size rod.
6. Budget
We always determine a budget for anything that we want to purchase. The same goes for you also! You also might have a budget for buying any fishing materials.
If you have a good budget, it's obvious you can invest in a good quality branded telescopic rod. But when you don't have a good budget, what will you do?
In this term, you can keep all the essential factors that you need in it. And consider buying one which has all the abilities to fulfill all of your requirements.
We hope this telescopic rod for fishing buying guide will help you to get your desired rod. A durable, portable, and efficient fishing rod can change the whole fishing experience.
Benefits of Having a High-Quality Telescopic Fishing Rod
Telescoping fishing or this not only the best companion for fishing enthusiasts. But it is also the best choice for them who wants to go camping, hiking, traveling and want to enjoy fishing there. Besides, it is widely used by many professional fishers. Now let's discuss some benefits of having this fishing gear.
Maximum fishing rods are lightweight. So you can carry wherever you want.
Most of the telescoping rods are compact that allows you to store it anywhere.
Though being lightweight and compact size, many rods have a heavy weighing capacity which allows you to catch big fishes.
You can wipe it clean so easily.
What Are Types Of Telescopic Rods?
Fishing rods are many but we would like to talk about 3 major kinds of.
1. Spinning Fishing Rods
These rods are made to spin reels uniquely. When you need to reach a very deep of the water, the reels must have to be spin. If you can't conveniently make the reel spin, the fishing experience can become a disaster.
If you're someone who often goes for fishing on the river, lakes, rivers, ponds, and streams, you must go for the best spinning rods flexibility.
Those who go for fishing in the saltwater, they need an anti-corrosive feature in the rods. So, taking the rods into the surf become reliable and protected.
If you don't want any handle but your wrist to work on, you can opt for a fly fishing rod. These rods are thin and very lightweight to carry and use.
FAQs:
Question 1: How does a telescopic rod become so compact?
Answer: Telescopic rods are flexible and durable. You can fold and extend them to use and carry anywhere along with you.
Question 2: Are fishing telescopic rods any good?
Answer: Telescopic rods are reliable but not highly. The poles of the telescopic rods often break down which makes it less flexible.
Question 3: How do you put a fishing line on a telescopic rod?
Answer: You need to mount the reel first, then bring the line through line guides and finally attach allure.
Question 4: Is Sougayilang a good brand?
Answer: Sougayilang is indeed a good brand if you want a compatible companion for fishing. It's spinning fishing reel for those who love to enjoy deep fishing.
Question 5: Is Telescopic Rod Better Than A 2-Piece?
Answer: while you want portability and flexibility, the telescopic rods are the best choice. But when you don't want to deal with sensitivity, 2-piece is a better option.
Buying Advice of Top Telescopic Rod
Before proceeding to the review section in need to know some basics of telescope fishing rod. Know the type of water you want to go fishing.
If you are up for freshwater fishing, you don't need to buy fishing rods having anti-saltwater corrosion resistant. It may cost you more. Also if you are traveling a longer distance try to buy compact and lightweight telescoping rod. For your better choosing option, we've categorized them with their special features in the review section.
All you need is to understand what type of fishes that you are going to target. And what's the water type is, then you can select the fishing rod according to your fishing needs!
Final Verdict
Finally, the choice is yours. We covered almost every category and provided you clear difference between each rod in our best telescoping fishing rod reviews. We also categorize them into two specified price range. If you are low on budget, don't need to worry now. Just know what types of fish you are going to catch, which water you are going to cast and where you are going to go fishing. If you can answer these three simple facts then choosing the best one from market won't be any problem after reading these.