There are a few things to consider when fishing for bass in a lake. The time of day, the season, and the weather all play a role in where the fish will be and what they will be biting. During the summer months, bass will be in deeper water during the day to avoid the heat.

They will move into shallower water to feed in the early morning and evening hours. In the winter, bass will stay in deep water where it is warmer. Knowing where to find fish is half the battle.

The next step is figuring out what bait or lure to use. Live bait such as worms or minnows are always a good option, but artificial lures can work well too. It depends on what the fish are biting that day.

Experiment until you find something that works.
How To Catch Bass On Any Lake!
The following steps will outline how to fish for bass in a lake: 1
Choose the right bait- When picking your bait, consider what the bass are feeding on in that particular lake
If you're not sure, ask a local bait shop owner or another fisherman
Live bait is always a good choice because it increases the chances of the fish biting
Some good live baits include minnows, crawfish, and frogs
Find where the fish are hiding- Bass tend to hide near logs, rocks, and weeds since they provide cover from predators
They also like to congregate in areas with high concentrations of food
Look for these types of areas when trying to locate bass in a lake
Use the right tackle- In general, lighter tackle works better when fishing for bass in lakes since they aren't as big as oceanic fish species
A good rule of thumb is to use line that's no heavier than 20 pounds and hooks that are size 4 or 6
Set the hook immediately- As soon as you feel a bite, set the hook hard so that the fish doesn't have time to spit out your bait
Bass are notorious for being difficult to reel in once they've been hooked, so make sure you have a good grip on your rod before trying to pull them out of the water
How to Fish for Bass from Shore
Bass fishing from shore can be a great way to get your feet wet, so to speak. There are a few things you need to know before heading out, though. Here's a quick guide to help you get started.

1) Pick the right spot: You want to look for areas with deep water and plenty of cover. Bass love hiding in vegetation, so look for spots with lots of weeds or logs. 2) Use the right bait: Minnows are always a good choice, but artificial lures can work well too.

If you're using live bait, make sure to hook it through the lips so it swims naturally. 3) Get a good reel: A spinning reel is usually best for bass fishing from shore. Choose one that's comfortable to use and has a good drag system.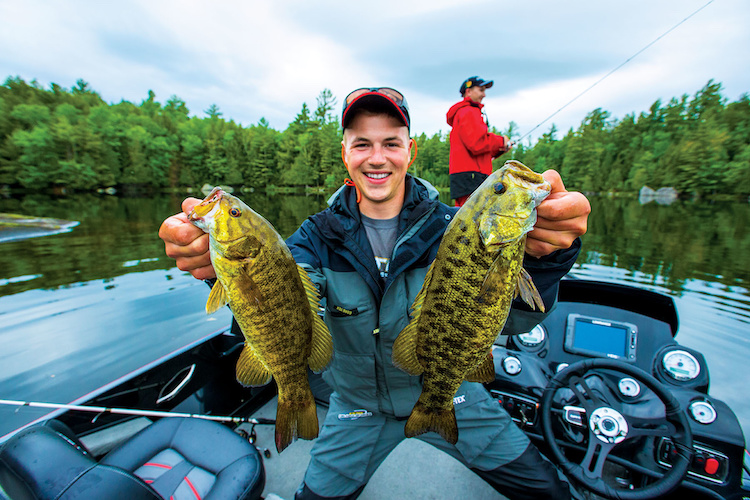 Credit: www.discoverboating.com
What is the Best Bait for Bass in a Lake?
There is no definitive answer to this question as different bass in different lakes will respond to different baits. However, there are some general tips that can be useful when trying to catch bass in a lake. One of the most important things to consider is what the fish are feeding on.

If you can find out what the local baitfish are and match your lure to them, you'll have a much better chance of success. Another good tip is to use a dark-colored bait if the water is murky or stained, as this will be easier for the fish to see. Finally, remember that bass are often found around structure such as logs, rocks or sunken trees, so try fishing near these areas.
How Do You Catch Largemouth Bass in a Lake?
Largemouth bass are one of the most popular fish to catch in lakes. They are relatively easy to catch and are a great eating fish. Here are some tips on how to catch largemouth bass in a lake.

The first thing you need to do is find a good spot where there is likely to be bass. Look for areas with lots of cover such as logs, rocks, or aquatic vegetation. Bass like to hide in these areas so they can ambush their prey.

Another good place to look is near drop-offs where the water depth changes suddenly. Bass will often hang out near these areas waiting for food to come by. Once you have found a good spot, it's time to start fishing.

One of the best baits for largemouth bass is live bait such as minnows or worms. Bass are opportunistic feeders and will strike at just about anything that moves, so don't be afraid to try different baits until you find something that works. If you're using artificial lures, try crankbaits, spinnerbaits, or plastic worms.

Again, experiment until you find something that the bass seem interested in. When fishing for largemouth bass, it's important to keep your line tight so you can feel when a fish bites. Set the hook as soon as you feel a bite and then reel in your catch!
What Depth Do Bass Swim At?
Bass are a type of freshwater fish that are popular to catch. They can be found in many different types of water bodies, including ponds, lakes, rivers, and streams. Bass typically swim at depths between 0-30 feet, but they have been known to swim as deep as 150 feet.

The depth that bass swim at depends on a number of factors, including the time of day, the temperature of the water, and the availability of food.
How Do You Rig Bass in a Lake?
There are a few different ways that people like to rig their bass when fishing in a lake. Some popular methods include Texas rigging, Carolina rigging, and drop shotting. Each of these has its own benefits and drawbacks, so it really comes down to personal preference as to which one you use.

Texas rigs are probably the most popular method for rigging bass in a lake. This involves using a bullet weight on the end of your line, with a hook attached either directly to the weight or via a swivel. The advantage of this rig is that it allows your bait to sink down to the bottom where the fish are often feeding.

It can also be weedless, meaning you're less likely to get snagged on underwater vegetation. However, one downside is that because the weight is on the end of the line, it can be difficult to feel bites from smaller fish. Carolina rigs are another popular option, particularly for fishing in deeper water.

This involves using a heavier weight than with a Texas rig (usually around 1/2 ounce or more), which is attached to your line via a swivel. The hook is then tied onto the line above the weight, typically about 18 inches up. This rig allows your bait to swim freely behind the weight, making it easier for fish to strike at it.

And because the weight is not at the end of the line, you're more likely to feel even small bites from fish. However, one downside of this rig is that it's not as weedless as a Texas rig since there's no bullet weight protecting your hook from getting snagged on vegetation. Drop shotting is another option that's gaining popularity among anglers fishing for bass in lakes.

This involves attaching your hook (usually baited with live worms or other soft plastics) directly onto your line and then tying on a lead sinker below it – typically anywhere from 6 inches to 2 feet below depending on how deep you're fishing and what depth you want your bait suspended at. One advantage of this rig is that because your bait hangs directly below your rod tip, you can easily see and feel even small bites from fish – which makes setting hooks easier than with some other rigs like Carolina rigs where strikes can sometimes be harderto detect due an offset bait placement..
Conclusion
Bass fishing in a lake can be a great way to relax and enjoy the outdoors. There are a few things to keep in mind when fishing for bass in a lake, such as where to find them, what bait to use, and how to fish for them. Bass tend to inhabit areas with plenty of cover, so look for areas with submerged logs or vegetation.

The type of bait you use is also important – plastic worms and jigs are popular choices among bass anglers. When fishing for bass, try using a spinning reel and rod combo with 10-15lb test line.