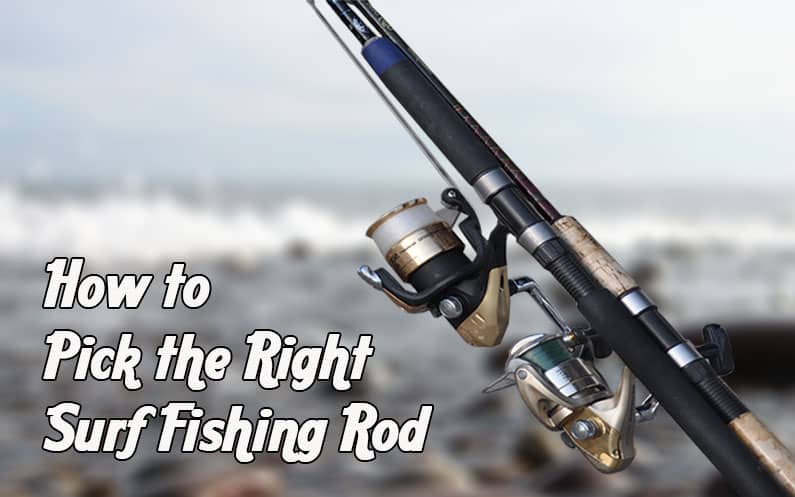 Many of you have been sharing with us of your trouble of finding the proper surf fishing rod. After testing with numerous types of fishing rods, and invest a countless time, we have found out some tips and important factors that you might have to consider before buying the right rod for your surf fishing. So, no more intro today. Let's jump into the details.
Why You Need It Actually
Regular fishing and surf fishing both are not the same things. If you are thinking about surf fishing, all your fishing equipment may not come to use in this case. Because this is another challenge than the regular fishing.
In surf fishing, you need to cast out further than you use to do. Otherwise, you may not get any fish because the nearer you try, the less fish you get. So here comes the use of surf fishing rod. These fishing rods are made for fishing in the long distance so that you can reach out to where the fishes are. And for that, you need a proper surf casting rod set-up.
If you are a beginner, you can check our beginner guide on Surf Fishing Casting.
These rods are generally made up to 500 feet long for achieving the distance you need to catch the fish. By a proper set up of the surf casting set up, you are going to catch fish more than you ever expected. So, if you want successful fishing, you are going to need the best surf fishing rod as well as other surf casting equipment for you. Why not check out some fishing equipment to make your fishing time more enjoyable? Our full guide on some best fishing accessories will worth checking, and apparently, it will save your valuable money.
A Tip: The fishes you will find in surf fishing are going to be a lot wilder than the regular ones. So be extra careful while enjoying the adventurous fishing.
Buy A Perfect Surf Fishing Rod – Things to Consider or Look for
To have a good surf fishing trip, you'll need some good set-up along with the rod. There are different kind of fishing rods for different purposes. You also need to know the features of your fishing rods correctly. Before spending your money make sure you have done your proper research which will prevent from wasting your money. Do not worry, to help you with that here are some essential features to check out before buying the right surf fishing rod for you.
The Length:
Length is a significant factor in surf fishing rod. Perhaps it's the main thing to consider at first hand. It differs from the fact that where you are willing to catch fish or in which size you want your fish to be. Because the longer your fishing rod is the farther you can through your bait. And you know, the more distant you through your bait, the fishes will be bigger. You also should keep in mind that a shorter person should pick short rod. Physical ability is also important in choosing the fishing rod for surfing. On average 10 to 12 feet is suitable for almost everyone.
The Power:
The next thing you have to give your attention is the power of the rod. It is also known as weight. The range of power is generally light to heavy. It means when the rod is light it will be more likely to bend easily. On the other hand, when the rod is heavy, it will be stiffer. The power you need to select depend on the weight of the bait you are going to use and the fish, how aggressive it is.
The Action:
After that, another important thing to consider is the action of the rod. It merely refers to the flex of the rod or where the flex would happen. Fast action rod means that it will bend toward the tip and slow action rod means that it will bend in the middle. Rods, which are slow, are considered as the highly flexible rod. Now, which one is better for you is entirely up to your ability or style of catching fish. The fast rod will come with proper settings quality, and it will be good with a single hook. It will affect the distance you want to cast. So according to your style, you have to choose the action of the rod.
The Weight:
The weight of the rod is also an important thing to check. If the rod is extra heavy, you will not be able to hold it much longer. You will also face difficulties with the massive weighted fish. So, it will be much easier for you if the rod is lightweight.
Pro Tip: It's an obvious thing that tides affect surf fishing. If you are a beginner or don't know much about the wave and the surf fishing time, we recommend you to do your surf fishing on high tide. And the best time for surf fishing is early in the morning before dawn and the 1-2 hour before dusk. If you want to know more in details about surf fishing, you can check out this article How to Cast Surf Fishing Rod – A Detailed Guide for Beginners.
Conclusion
Surf fishing is not exactly like regular fishing. To have a good surf fishing, you are going to need suitable equipment according to your style and also a perfect set up. Otherwise, your fishing time will not be as pleasant as you expected or you will end up having no sea fish in your basket. We have tried to show you the tips and the important things to consider that might help you to buy the best surf fishing rod for your next surf fishing.